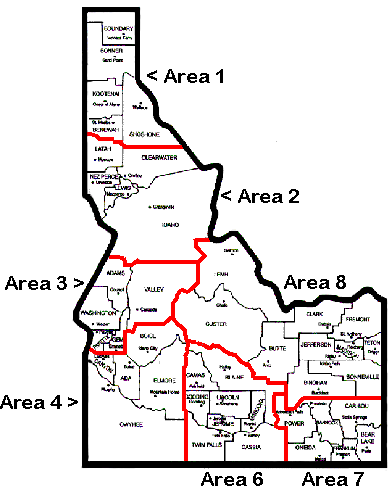 ISNA
Area Map by Idaho Counties
Area 1- Benewah, Bonner, Boundary, Kootenai, Shoshone.

Area 2 - Clearwater, Idaho, Latah, Lewis, Nezperce.

Area 3 - Adams, Gem, Payette, Valley, Washington.

Area 4 - Ada, Boise, Canyon, Elmore, Owyhee.

Area 6 - Blaine, Camas, Cassia, Gooding, Jerome, Lincoln, Minidoka, Twin Falls.

Area 7- Bannock, Bear Lake, Caribou, Franklin, Oneida, Power and South tip of Bingham.

Area 8- Bingham, Bonneville, Butte, Clark, Custer, Fremont, Jefferson, Lemhi, Madison, Teton.
Chapter 1B - Top of Idaho
Chapter 1J - Evergreen
Chapter 1L - Emerald Valley
Chapter 1R - River City
Chapter 1T - Panhandle
Chapter 2H- Syringa
Chapter 2L- Latah
Chapter 3W- Payette
Chapter 3X- Weiser
Chapter 4A - Boise
Chapter 4C-Laur-Ada
Chapter 4E - Canyon County
Chapter 4K - Nampa-Centennial
Chapter 4T - Treasure Valley
Chapter 6E - Cassia
Chapter 6H - What's for Lunch Bunch
Chapter 6J - Jerome-Northside
Chapter 6M - Twin Falls
Chapter 6P - Minidoka
Chapter 6W - Snake River
Chapter 7N - Mar-chefs
Chapter 7V - Tater Buds
Chapter 7W - Geyser Girls
Chapter 7X - Caribou Cookies
Chapter 7Z - Preston Pioneers